Licensed and Insured General Contractor #741287
Office: (858)549-1682
9835 Carroll Centre Road, Suite 103 San Diego 92126
References
Grondin Construction, Inc. prides itself on the professionalism of its workers and satisfaction of its clients. From small remodels and repairs to major renovations, we strive to provide a stress-free, positive experience and to complete your project on-time and on-budget.
Always community conscious, Anthony Grondin serves as Executive Committee President of Rebuilding Together San Diego. Each April, Grondin employees participate in National Rebuidling Day, helping to provide mini-makeovers to an average of 15-20 need homes and community facilities. Grondin also provides construction and renovation services to many other organizations throughout the county.
Please feel free to contact any of our references.
Homeowners
Grondin Construction, Inc. is committed to going above and beyond on every project.
"I keep standing in the bathroom, grinning, because it is so pretty."
"Dan and Dave did their best to fit in with our daily craziness.....They even sang 'Happy Birthday' to me."
"To everyone at Grondin Construction who took a simple request and made it extraordinary..I just want to say thank you. My mom suffers form degenerative hip disease. She had difficulty geting in and out of my bathroom tub. Because ofyou shenow has a beautiful walk-in shower with a built-in seat forher to rest on.
"The entire bathroom looks as though it has been remodeled! Thank youAnthony, Caroline, John, Dan, Dave and all the rest of you whose names I may have forgotten. Your professionalism and kindness were tremendously appreciated. I think Grondin Construction is just AWESOME!"
Rebuilding Together San Diego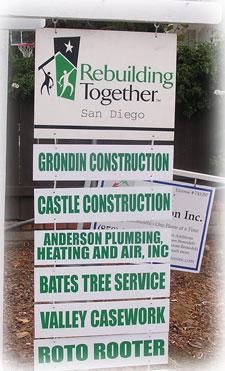 As part of our efforts to give back and help our community, the owners and employees of Grondin Construction are proud to work with "Rebuilding Together San Diego" to revitalize homes and neighborhoods for low-income homeowners and communities in need.
"Over the past five years Mr. Grondin has involved himself and his company in supporting the mission of Rebuilding Together San Diego...He has generously donated time, expertise, material and financial resources on numerous projects."
Community Development
From painting homes for low-income, disabled and elderly homeowners to renovating affordable housing units, Grondin Construction has built a strong reputation among the community development corporations of San Diego County.
Community Partners